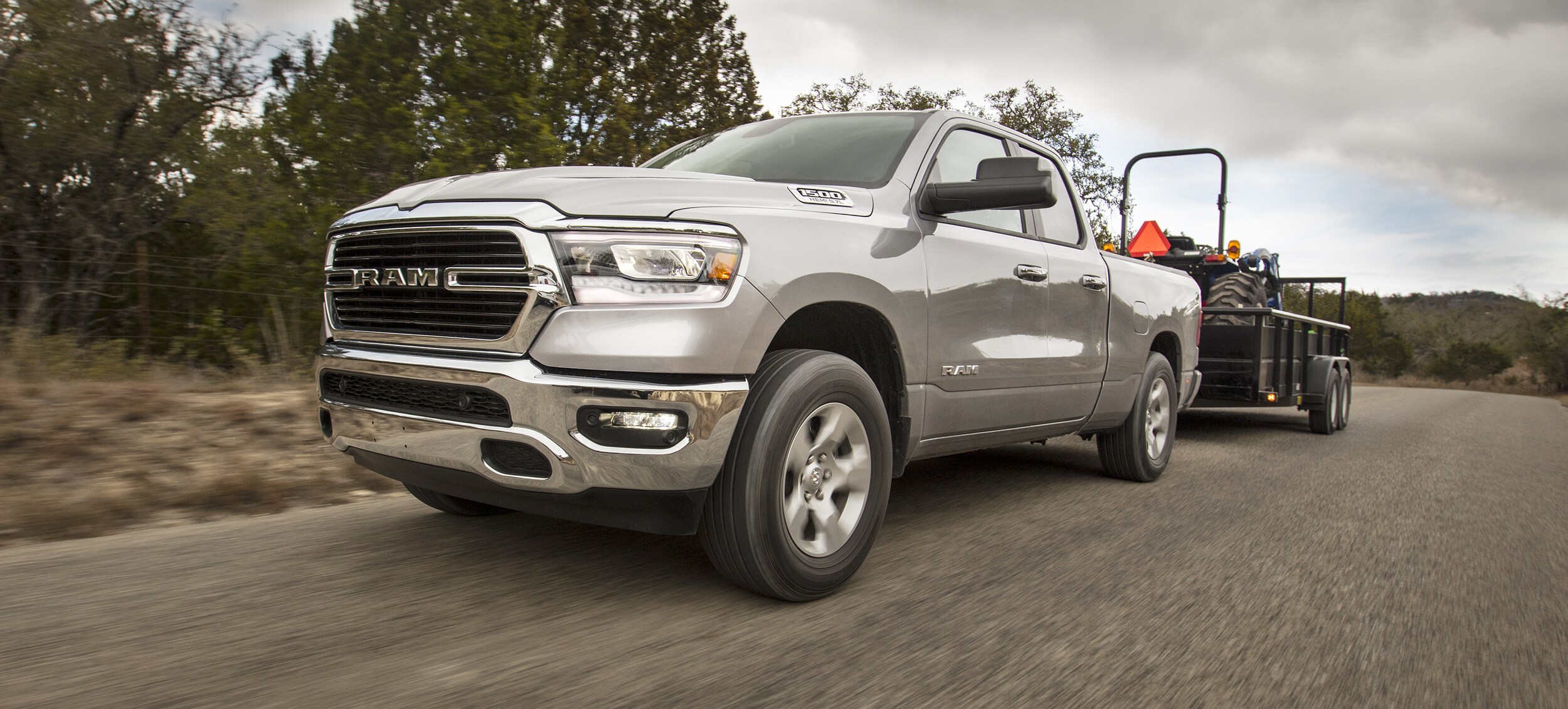 Ram Trucks: How Much Can They Tow?
Ram trucks dominate top spots on lists about the most powerful, efficient trucks for work and play. The lineup includes Ram's shining stars: the Ram 1500 and the Ram 2500. Both are celebrated for their expert towing and hauling capacities. Our team at First Chrysler Jeep Dodge RAM in North Attleboro has put together this a brief look at both models, their capabilities and what differentiates their hauling from their towing stats.
.



Ram 1500
Ram 1500 is your basic but bodacious light-duty pickup. As of this writing, there are six trim levels: Limited, Laramie Longhorn, Rebel, Laramie, Big Horn, and Tradesman. Each trim is available in a multitude of cab/bed options as well as exterior colors.
The silhouettes on each trim are very similar, maintaining Ram's longstanding reputation for creating pickups that look rugged and muscular yet well-groomed. The main differences between trims are engine types and standard features on higher trims that are merely available options on lower trims.
The Ram 1500 fleet relies on a class-exclusive standard TorqueFlite, an eight-speed automatic transmission with the eTorque Mild Hybrid System. TorqueFlite and the eTorque Mild Hybrid System optimize changes in shift automatically for enhanced efficiency and performance.
A selection of four engines offer buyers of Ram trucks some stellar advantages. Each engine is a legend for its immense power and fuel economy: 5.7L HEMI V8 engine with eTorque, 5.7L HEMI V8, 3.6L Pentastar V6 engine with eTorque and the 3.0L EcoDiesel V6 engine.
When combined with Ram 1500's eight-speed automatic transmission, Ram 1500 can tow up to 12,750 pounds. Its multifunction tailgate has a 60/40 split, giving you a variety of ways to access the bed's generous cargo space at work sites or on big errand days in North Attleboro.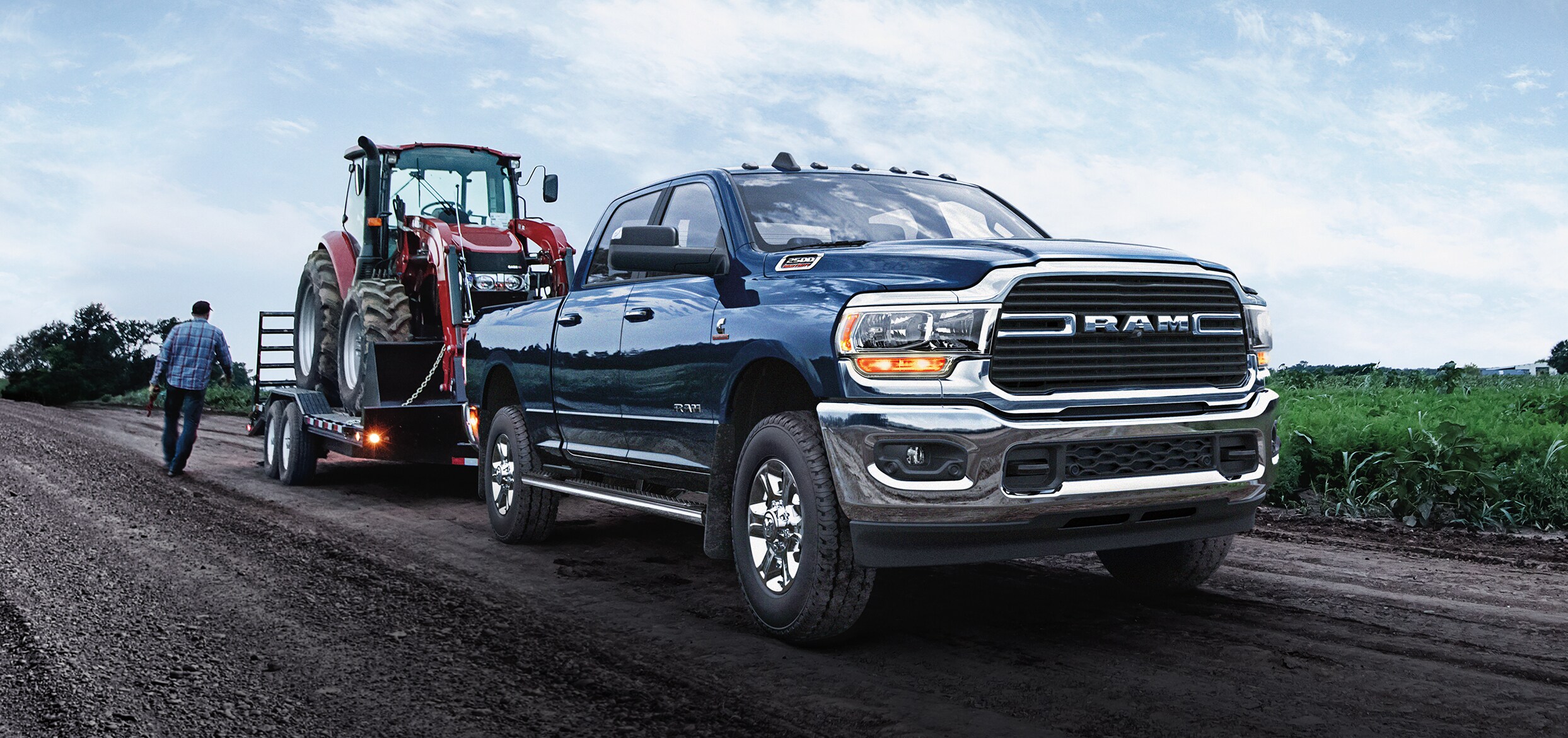 Ram 2500
A step up from Ram 1500 is Ram 2500, a full-size heavy-duty pickup available in six trims: Limited, Laramie Longhorn, Laramie, Power Wagon, Big Horn, and Tradesman. In Texas, the Big Horn trim goes by the name Lone Star.
Ram 2500 is intended for both vocational and recreational use. Its high-strength steel body has high crashworthiness, while a high-tech 360-degree camera provides a panoramic exterior view, easing the process of aligning truck and trailer.
There are two engine options on the Ram 2500: the 6.7L Cummins Turbo Diesel engine and the 6.4 HEMI V8 engine. The latter churns out best-in-class standard 410 horsepower thanks to variable-cam timing (VCT) and enhanced displacement.
When equipped with the 6.7L Cummins Turbo Diesel engine, Ram 2500 tows a whopping 19,780 pounds and hauls up to 4,000. It receives some help from upsized towing hardware and the class-exclusive WARN Zeon-12, a 12,000-pound winch.
Hauling, Towing, and Payload
Hauling, towing and payload are always considerations when evaluating pickups of any size. People toss these words around interchangeably, often confusing them with each other.
It's true that engine size, horsepower, torque, chassis and axle ratio all affect hauling and towing, but the two are not the same. Hauling refers to how much a truck can carry; towing capacity is the amount that a truck can pull.
Payload is another word for a truck's hauling capacity. Payload encompasses everything in the truck, from passengers to cargo. The actual payload indicates what a truck can safely and efficiently haul on top of its curb weight.
When manufacturers determine payload capacity, they factor in curb weight, passenger weight, cargo weight, and even trailers. This larger number is a vehicle's Gross Vehicle Weight Rating (GVWR).
To find payload, the manufacturer subtracts slightly more than vehicle curb weight from the GVWR. What's left is payload capacity. In addition, many manufacturers create helpful, informative guides for calculating hauling and towing weights of large, bulky or unusually heavy objects.
A truck derives its payload capacity from a variety of mechanical features, such as its rear springs, chassis design, truck bed size, and shock absorption. Unlike payload, truck towing almost exclusively comes down to engine torque and horsepower.
Engine torque indicates an engine's rotational force amount in lb/ft. The engine crankshaft converts linear energy into rotational energy. This eventually turns a vehicle's wheels via the drivetrain.
Torque is what helps a vehicle overcome inertia or stillness. It's also what helps vehicles climb hills. The same laws of physics at work when traveling uphill in Mansfield, MA are the same when traveling on level ground with a load behind you.
In both instances, either gravity, added weight or both pull on the truck. The truck's towing power must exceed whatever pulls on it so that it can tow large loads safely and without stressing drivetrain, engine, chassis or tires.
Visit First Chrysler Jeep Dodge RAM Today!
If you're in Taunton or Franklin, MA, make the short drive over to First Chrysler Jeep Dodge RAM and check out our new Pam models for yourself. Providence RI customers can also get quick and easy financing from home as well. Contact First Chrysler Jeep Dodge RAM for directions and stop by for a test drive today.