Work with Us at First Chrysler Jeep Dodge Ram to Experience the 2020 Jeep Wrangler
We at First Chrysler Jeep Dodge Ram are very excited to have the new Jeep Wrangler for sale. This incredible vehicle has been an iconic companion to the avid adventurer for years now, and will be for years to come. The 2020 Jeep Wrangler is more than exciting, its absolutely innovative. This awesome vehicle is sure to really pique the interest of North Attleboro, Franklin and Taunton, MA residents when they get the chance to really experience what this great model has to offer. Browse our inventory or learn more below!
Off Road Icon
It's no secret that the Jeep Wrangler is an absolute beast when it comes to handling off-road terrain. But, the Wrangler didn't gain this ability overnight. With years of innovations behind her build, we know that the 2020 Jeep Wrangler will truly show off when you head off the beaten path. Check out some of the exciting specs that help the Wrangler to pull ahead of the competition.
Impressive Traction: The Wrangler offers up with three available 4x4 systems to help you easily make it over different terrains.
High Ground Clearance: With an unbelievable ground clearance, you will be able to take the 2020 Wrangler to the most exciting of landscapes. This beauty can easily drive over logs, rocks, and anything else that the trail throws at you.
Water Fording: With a high air intake, as well as sealed electrical connections, you will be able to drive over streams, brooks and other water sources with total confidence.
Impressive Technology
With an exciting selection of technology, you can make every adventure your best yet. You can look forward to available Android Auto, Apple CarPlay and Amazon Alexa connectivity to ensure that you can reach out to friends and family while on any drive. In addition, you can look forward to total access to the benefits of your device. Without taking your eyes off the road, you can easily play your favorite road trip music, or catch up in the latest episode of that new podcast you just discovered.
We also know that Providence, RI and Mansfield, MA residents will be excited about the safety features that the Jeep brand achieves through technology. With a huge selection of available safety and security options, we know that Wrangler drivers can make this beauty all their own. Check out some of the exciting safety options below:
Blind Spot Monitoring: This feature enables you to keep a closer eye of what is going on in your blind spot.
Forward Collision Warning: This exciting feature alerts you when a forward end collision is imminent. It can also engage the brakes if you don't respond to its warnings.
Adaptive Cruise Control: This feature helps you to remain in unison with the flow of traffic. It automatically adjusts your speed to that of the vehicles around you.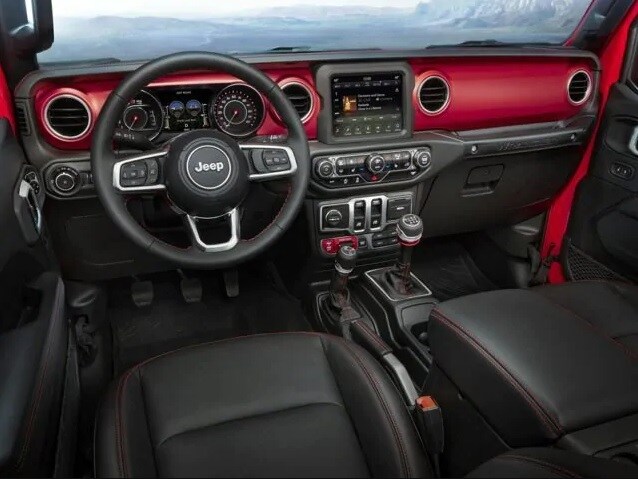 Interior Options
With the 2020 Jeep Wrangler, you will have plenty of space for actives. This beauty gives you access to plenty of small item storage, as well as a great deal of head and legroom, especially when the doors and roof are removed. Like all Wranglers, this beauty has the classic fold down windshield and removable panels to ensure that you can bring the outdoors inside. This, along with comfortable seating, make for a truly unique adventure.
We at First Chrysler Jeep Dodge Ram are very excited about the arrival of the 2020 Jeep Wrangler. This awesome vehicle is ready for you to test drive. We know that once you experience the 2020 Jeep Wrangler, you won't have eyes for any other vehicle.