Most Powerful Jeep Grand Cherokee Ever
Available to Order NOW in Attleboro, MA!
We don't know if you've heard the news yet, but Jeep is releasing a new version of their popular Grand Cherokee SUV in 2018, and it's a doozy. Here at First Chrysler Dodge Jeep Ram, we're excited to have this headline-grabbing Jeep model available for pre-order for our customers. But, you'll have to act quickly. We only have two available for order for the entire year.
The 2018 Jeep Grand Cherokee Trackhawk
So, what makes this new Jeep so exciting that you should rush right out and order yours today? Power, speed, and style, to name just a few. The Grand Cherokee Trackhawk is the fastest and most powerful Jeep model ever. It's powered by a massive 6.2-liter Hellcat V8 engine that gives 707 horsepower and 654 pound-feet of torque. This impressive machine is also backed by special SRT (Street & Racing Technology) engineering and can go from zero mph to 60 in 3.5 seconds. It's also paired to a special 8-speed automatic transmission that has been reinforced to be more responsive.
The Trackhawk is distinguishable from its Grand Cherokee siblings by appearance as well. From the front, its black-framed xenon headlights set it apart, and, from the rear, dual exhaust tips tell any onlookers that this Grand Cherokee is different. The Jeep Grand Cherokee Trackhawk is remarkable inside and outside. In the cabin, the Trackhawk has received upgraded insulation and active noise resistance, so your ride is quiet despite the power under the hood. Plus, every Trackhawk comes with premium leather upholstery and all the latest tech features from Jeep. This includes more than 70 safety features and the Uconnect touchscreen infotainment system.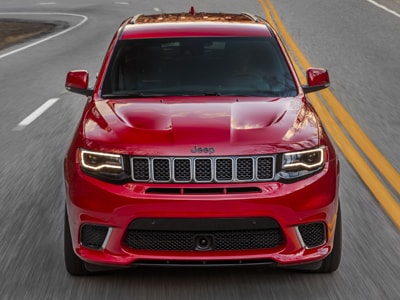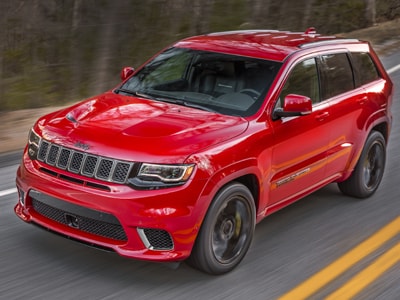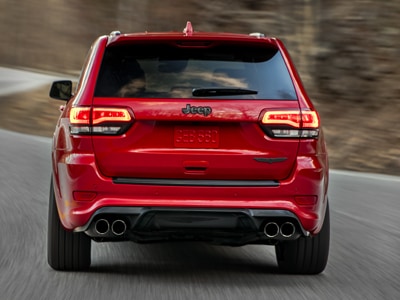 Order the Jeep Grand Cherokee in North Attleboro
Ready to learn more about this unique Jeep Grand Cherokee? Want to order one of your very own? Stop by or call our sales team at First Chrysler Dodge Jeep Ram soon. We've got the answers to all of your Trackhawk questions right here at our North Attleboro dealership.